Written by @joehairie
Thought of the day-"We have reason to be concerned about attempts by terrorist groups to circumvent aviation security and terrorist groups continue to target aviation interests,"-US Department of Homeland Security
Sit still. Enjoy the movies or listen to the music. Talk to your neighbors. Sleep or eat as much as you want. Look at that awesome view through your small window or simply look around, walk to the galleys to find someone who is willing to talk to you for hours. Forget your laptop, forget about taking pictures with your expensive digital camera. Business travelers, draft your business proposals in your brain. All these if you are flying from the Trump's listed airports in Middle East and North Africa. Check-in your laptop, tablet and digital camera. Arrive at the airport early!
Bear in mind that the United States will prohibit passengers traveling on several routes to the US from the Middle East and North Africa from bringing electronics larger than a smartphone on board with them.
The ban applies to flights to the US from the airports for Cairo, Kuwait City, Dubai, Doha, Abu Dhabi, Casablanca, Jeddah, Amman, Riyadh and Istanbul. It affects the following airlines: Royal Jordanian, Egypt Air, Turkish Airlines, Saudia, Kuwait Airways, Emirates, Etihad Airways, and Royal Air Maroc.
Take note though that Smartphones are allowed in the aircraft cabin. However, any electronic devices bigger than that will have to be checked in, your choice of either with your luggage or at the gate or as what the airport authorities said. That includes laptops, cameras, gaming devices and tablets such as iPads. Medical devices (and cameras on U.K.-bound flights) will still be allowed in the cabin after security screening.
Some airlines, such as Emirates and Turkish Airlines, will allow you to keep your gadgets until just before boarding. Passengers are required to hand over that item(s) to staff on duty at the departure gate. It is strange as Officials declined to say why they suspect individuals may use devices such as laptops and tablets for an attack, though they did mention the recent terror attacks on the airports of Istanbul and Brussels.
It is said that Intelligence obtained in recent weeks found that al Qaeda in the Arabian Peninsula was perfecting techniques for hiding explosives in batteries and battery compartments, according to a U.S. official. Intelligence also shows growing capability and threat from al Qaeda in Syria, ISIS and Al Shabaab.
But what if the Terrorists choose to fly on carriers that are not listed? They know that such airlines will start to impose the rules so they will surely opt for another carrier(s). Will that brings to global reinforcement which all airlines in the world will start asking passengers to check-in their laptops etc? Will this make flying a bit hassle as you need to check-in certain items and most importantly will it eat-up some of your complimentary/paid KG?
What will happen to passengers who does not realize their flights are affected especially if they are ticketed on a code share with the listed carriers? There are so many questions playing in our head as the new regulation seems to be lacking of precise information. What about business passengers who need to work on their proposals on a 12-hours flight? Some airlines are smarter anyway.
According to fortune.com
Complimentary laptops are being loaned out to some Qatar Airways and Etihad Airways passengers as the Gulf-based carriers' attempt to mitigate the effects of a U.S.-imposed cabin ban on most electronic devices on inbound flights. Qatar Airways said it will distribute laptops to its business class passengers from next week. The laptops will reportedly be given out at the gate, and passengers' devices will be collected and stowed with checked-in luggage. (Source: fortune.com)
So, are you having any plan on traveling to the US using any of the Trump's listed carriers? Prepare to do things with your smartphone, work on your business proposals using that tiny window of your smartphone. Or perhaps just enjoy the IFE and do that conventional oral communication. You hate talking? No worries, just admire the view from your window that is if your seat is window seat and it's day time.
Luckily, Royal Jordanian has listed 12 things to do if your laptop or tablet is in the cargo…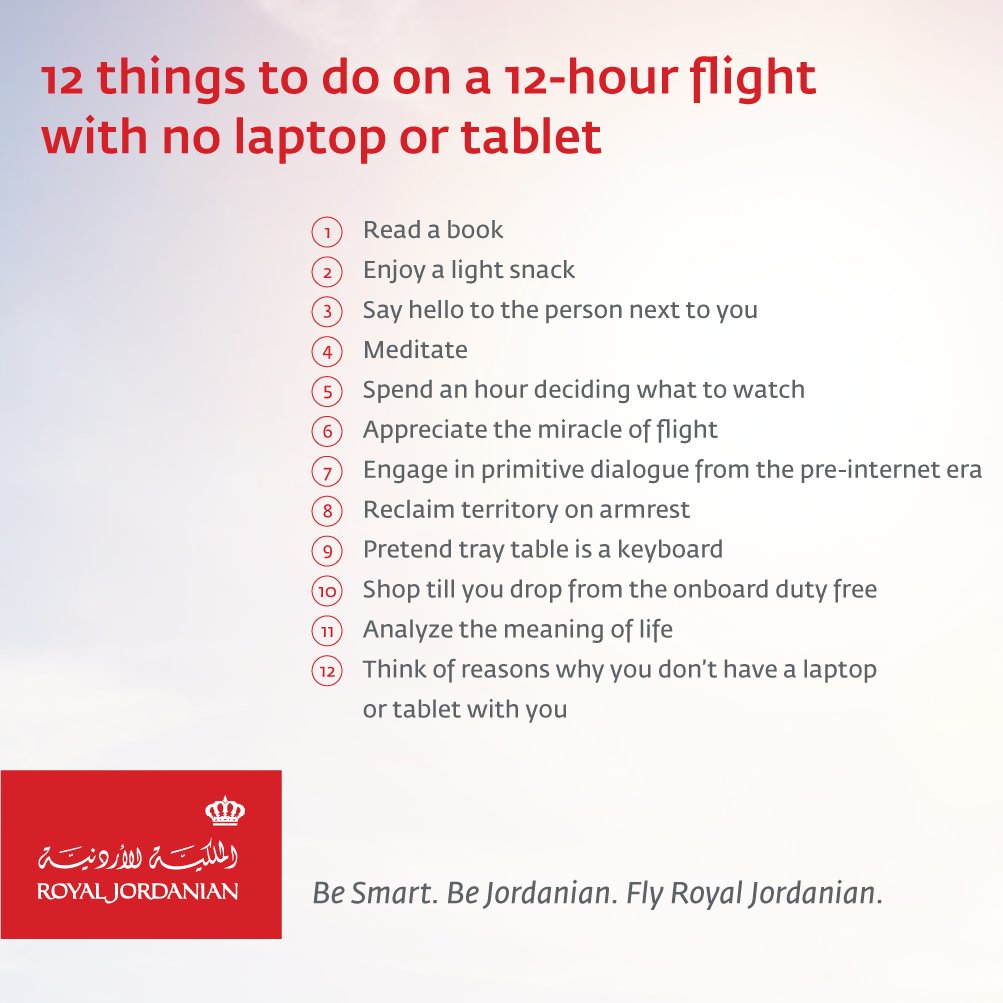 Alternatively, fly to the US on the other non-listed carriers, the choice is yours, that is until Trump decide to make the regulation a mandatory for all airlines in the world…