Written by @Lan & Edited by @joehairie
(Photos by curiostraveller.com team members & credited sources)
The advertisement banner by Dreamtel Kota Kinabalu clearly explained that Dreamtel Tuhau Chicken is about a flavorful fusion dish with juicy chicken thigh coated with breadcrumbs and deep-fried to perfection, and served with a special sauce infused with fragranced Tuhau, a local wild ginger. The dish is accompanied with garden salad tossed with local wild mango, bambangan salsa and chips. Tuhau? Oh no, we dislike Tuhau ever since we knew about its existence. Our angel invited us for food tasting at Dreamtel Kota Kinabalu and she told us that we're to try this Dreamtel Tuhau Chicken. Seriously? Tuhau? We were speechless and we only admit to her the night we found ourselves sitting, waiting nervously for that dish. My Chief Editor said to me, let's just try….
About Tuhau
Before we 'venture' into something new in the culinary world, let's have a 101 crash course about Tuhau.
Tuhau is one of the traditional cuisine or pickles of the Sabahan Borneo. It is popular among the locals especially the Kadazan-dusun people. It is best to be eaten with dishes and rice. For some people they don't like the taste of tuhau because of it stringent and strong smells. The smells are quite similar to the small insect called "posisang" in local language. Tuhau belongs to the family of ginger but it doesn't taste like ginger at all.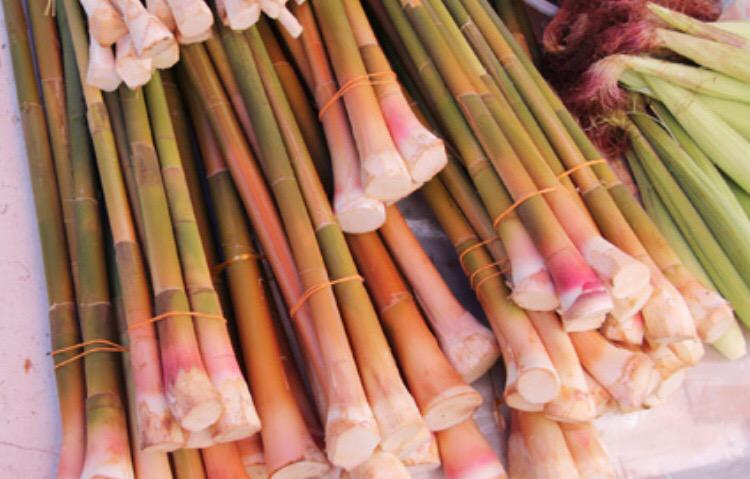 Sambal tuhau is a traditional side dish prepared by the natives in Sabah, especially by the Dusun who lives in the interior. It's perfect to accompany local rice wine or beer and to treat hangover. The other cousins of tuhau which is use by many in preparing delicacy are tumeric, galangal/red ginger and of course wild ginger. The main ingredient is the tuhau which is scientifically known as E coccinea, a plant from zingerberaceae family, grown wildly and abundant in our tropical forest.
Popular among Sabahans, the tuhau is either pickled, made into spicy sambal tuhau and even made into dried serunding tuhau. Honestly, we both never eat Tuhau, perhaps for its unpleasant smell and taste (for both of us, to some it's haven). That was that until recently when Dreamtel Kota Kinabalu elevated Tuhau, infused it into something interesting. Chef Guy Alden Peter and his amazing team introduced Dreamtel Tuhau Chicken and we recently tasted it.
About Dreamtel Tuhau Chicken
Before we came for the food tasting, we looked into the official Facebook page of Dreamtel Kota Kinabalu and the first thing we saw was this advertisement (image below). The caption was…The dish is priced at only RM23.00 nett and is available at the halal all-day dining restaurant, Dreamtel Cafe.
Before we showed up at Dreamtel Kota Kinabalu, we did a serious discussion about this dish and its possible taste, portion and most importantly what would the consequence(s ) be (for us) after we eat it? Are we going to embarrass ourselves? Yes, we are locals, shame on us for not ably to appreciate our own traditional food. What if we let down our angel by refusing to finish the portion? Honestly, we're not sure about everything or anything. We simply braved ourselves coming to Dreamtel Cafe. Next thing we know, the waiter was happily and proudly bringing the dish to the table. Alright, bring it on mate!
About us-Our Experience
So we saw this, right in front of us, waiting to be consumed. First impression, big portion! There's Chicken Chop look alike on the right, fries on the middle followed by the Salad. On top of the Salad, there's this tiny little little things on it. We read the menu again, yes, that's Bambangan Salsa and we love Bambangan! Well, at least we thought we can eat the Salad and Fries. We looked closely, the sauce was in a small cup, not on the Chicken Thigh. Great! That sauce must be the Tuhau. We wondered what it taste like. The pungent smell of Sambal Tuhau came into our mind.
We braved ourselves to smell the sauce. Not an inch nearer to that Sambal Tuhau that we dislike so much. It actually smell good and we dipped our spoon into it, tasting it. We actually ate Tuhau! Well, an elevated one but at least it's made from Tuhau. It's not smelly, not even spicy and it was like the sauce that we normally had for Chicken Chop dish. It was after about 1 minute or so that we actually ably to taste the presence of Tuhau. Not that bad! In fast it was good that we kept dipping our spoon into it and in it went to the tongue! Our moms will be proud of us now, we're now Kadazan-Dusuns!
I then tried the Salad. Amazing dressing I must say, what a great approach to use Bambangan Salsa as the dressing. Kudos Chef! My Chief Editor @joehairie, is a die hard fan of Bambangan, of course he emptied that salad part. Then we tasted the fries, firstly eating it just like that. We then dipped it into the sauce, ate it and it's haven! The moment of truth came, we must now try that Chicken. Cut it to few pieces, ate it plainly, it was alright, same as eating Chicken Chop or so. It was then that @joehairie suggested me to pour all that sauces onto my Chicken. I did, with some hesitation.
…and my Chicken Chop flooded by that sauce, I heard that giggling, Mr Chief Editor, just wait for your turn!  It turned out that eating that Chicken with the sauce flooding it was more exciting and delicious rather than dipping pieces into the small bowl of sauce. Yes, there's Tuhau taste on my tongue, but I actually enjoyed it so much. It tasted uniquely different, much more different from what we both anticipated. @joehairie followed my action and he ate faster than me!
Our Verdict, 2 cents & appreciation
We regret that we thought bad things about the dish. We regret that we underestimated the value of our own traditional food. Most importantly, we regret finished eating that dish! Why? Let us tell you the reason, we LOVE that dish! Finishing it meant we ran out of something good. Whenever good foods are around, we all normally wish to eat it slowly and hope to see it again when we wake up in the morning. We wish that each week we get to eat it again.
It will be interesting to see if another type of meat being introduced, for example, crispy fried fish fillet. Beef? Not sure though but we wouldn't mind trying as long as the Tuhau Sauce is there to accompany the dish. The price, RM23.00 nett is reasonable enough. The portion speaks for the price. If I have a restaurant, I will personally charge RM30.00 nett for that kind of dish so RM23.00 nett is generous! One thing that we would like to see on the plate is, more sauce. We're not sure if it's refillable, maybe or maybe not. Why don't you go and try asking, please let us know!
Thank you to our angel for inviting us to try something new, giving a new dimension to our palate. Thank you as well to Chef Guy and his brilliant team. If we didn't come to the food tasting, we ain't able to know that Tuhau is actually great! Though we are still not sure that we can eat Sambal Tuhau, we are sure of one thing though…we now can consume sauces that being mixed or infused with Tuhau, sort of 'modern and traditional' elements being united to satisfy those who are curios and curious, that's us, to be exact.
We enjoyed having that Dreamtel Tuhau Chicken. An excellent dish, we say. We highly recommend this dish to everyone. If you hate Tuhau (As we both used to be), try it first, you will not regret having that dish. Two questions. To the readers: When will you try this dish? ..and to our Angel: can we have some more please? We miss the dish already. Fingers crossed.
Dreamtel Cafe @ Dreamtel
5 Jalan Padang, 88000
Kota Kinabalu, Sabah, Malaysia
Telephone: +60 88 240 333
Fax: +60 88 248 333
Website: www.dreamtel.my
Email: sales.kk@dreamtel.my
Facebook: Click HERE
About Dreamtel
Dreamtel Kota Kinabalu is conveniently located within the centre of Kota Kinabalu city. Local tourist attractions are within walking distance such as the Atkinson Clock Tower, the famous Sunday Market at Gaya Street, handicraft market and shopping malls like Wisma Merdeka, Suria and Centre Point. Most banks and ATMs are located at Gaya Street.  Dining facilities include the Dreamtel Café and 24-hours in-room dining service. Other services include meeting facility, concierge service and laundry or dry cleaning.With 160 guestrooms, the Hotel has a wide selection of room types to suit varying guest requirements including Twin, Double and Triple. Whether you are travelling for business or on holidays with friends and family, Dreamtel has just the room for you.